This page provides information on the development of national Fisheries Management Plans (FMPs). It will be updated with developments in the plan and can signpost you to relevant information, any stakeholder events, or consultations in relation to these plans.
CONSULTATION NOW LIVE https://www.gov.uk/government/consultations/crab-and-lobster-proposed-fisheries-management-plan-consultation
What are Fisheries Management Plans?
FMPs are national 'action plans' for the management of individual fisheries and will be developed collaboratively with the fishing industry and other stakeholders. The plans could change management measures in your fisheries and so it is important to stay up to date and, where possible give your views to feed into the development of the plans as part of the process. All upcoming stakeholder engagement events, consultations, and any other relevant information will be posted on this page.
The need for FMPs came from the Fisheries Act 2020 which provides the framework to manage our fisheries as an independent coastal state outside of the EU Common Fisheries Policy. The act requires the UK fisheries policy authorities (Defra, and the devolved administrations in Northern Ireland, Scotland and Wales) to publish fisheries management plans (FMPs) to help deliver our ambition for sustainable fisheries. The Joint Fisheries Statement lists the 43 proposed FMPs.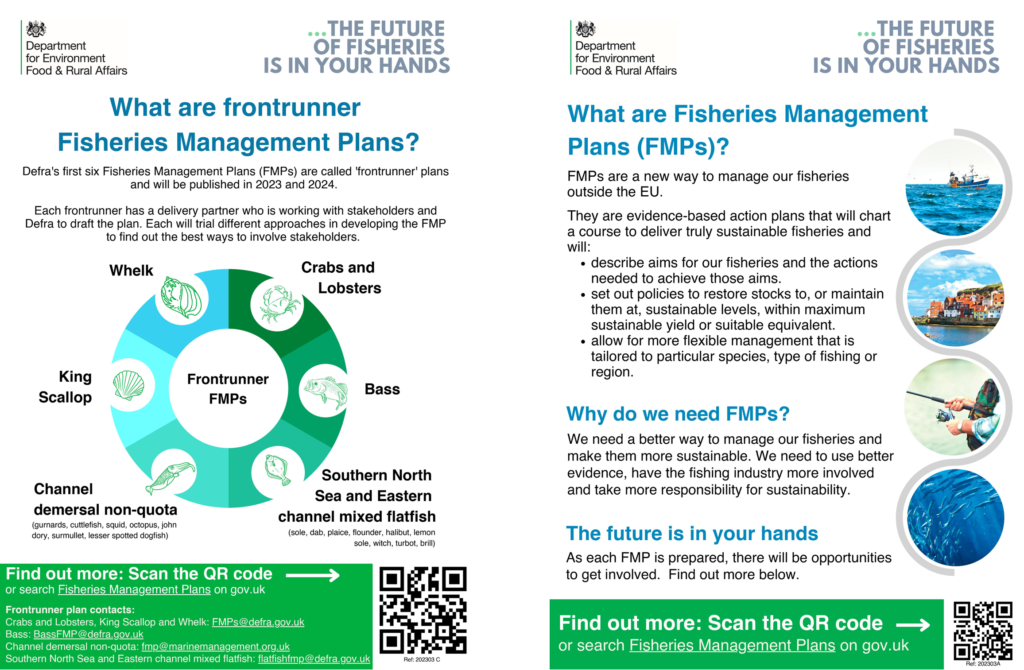 The 'Front Runner' Plans
Six 'frontrunner' FMPs are currently in development. They will pilot this approach for other fisheries. While Defra are leading on the development of the plans, each plan has a delivery partner who work with Defra and all relevant stakeholders to draft the FMP.
There will be various opportunities to engage in the development of each of the plans. Please see below as list of the current plans and links to further information: